The importance of values – World Values Day, 20th October
Tue, 04/10/2016 - 15:26
I was visiting bathstore's CEO Gary Favell last week to congratulate him on bathstore achieving EFQM Committed to Excellence accreditation and I noticed a Saracens rugby ball on his desk with their values printed across the ball – workrate, humility, honesty and discipline. This reminded me that there is a World Values Day on 20th October that I hadn't yet focused on – mainly as I was a little uncertain about the subject of values.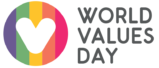 I am not singling out Saracens, as all teams seem to do it, but the sheer unadulterated celebrations, whooping and chest pumping into the faces of the opposition that accompanies any small gain achieved by the team in a match made me question to what extent humility is a value that is being lived by the team.
It has seemed to me in recent years that the topic of values has become a bit of a "bandwagon" in the same way as the "green" environmental agenda has.  It is easy for senior leaders to support and promote a values based approach at a conceptual level, but the acid test is to see how these values are present in the day to day operating fabric of an organisation and I hadn't really seen too much data to support whether they "work" or don't. In the example of Saracens, I know personally that the players give back to the community and carry themselves humbly and professionally but this doesn't to my mind always follow through on the pitch.  So do their stated values flow through everything they do?
Alan Williams, Director at SERVICEBRAND GLOBAL also sits on BQF's board and has been involved with the UK Values Alliance and Global Values Alliance for some years so I asked him to help me understand "values" over and above the litany of articles on LinkedIn that hold up values statements as the panacea.
Alan likes the Values Alliance definition of values as "traits or qualities that represent deeply held beliefs. They reflect what is important to us and what motivates us, and act as guiding principles – a behavioural and decision-making compass. This applies to us as individuals, to organisations and also communities." He believes you can use core values to provide:
A reference for consistent decision making
Clarity and increased awareness about individual behaviours (self and others)
A basis for reflection and enquiry
Stories for reinforcement
The result of taking this approach is that you will behave more consistently – viewed from within or from the outside – in an environment which is clearer and less ambiguous. In summary, values guide the way you feel, think and behave.
For organisations this is no mean feat. It takes hard work, effort and commitment by every employee, every action, every day.  However, Alan has also seen what is possible "When values become truly central, touching every part of an organisation – it can have a remarkable impact across a balanced scorecard of measures and feel very inspiring." And while Saracens may still have room for improvement, they put their success down to their values and culture, and they are, after all, English and European Champions.
World Values Day is on 20th October and there are many values based activities from 1-20 October listed on the World Values Day website. It is a way to provide a central focus for people and organisations interested in the topic of values and as a focal point for activity.  How could your organisation benefit from this?
Alan Williams is a Board Member of BQF.